"What is easy is sustainable.
Birds coast when they can."

― 
Emergent Strategy: Shaping Change, Changing Worlds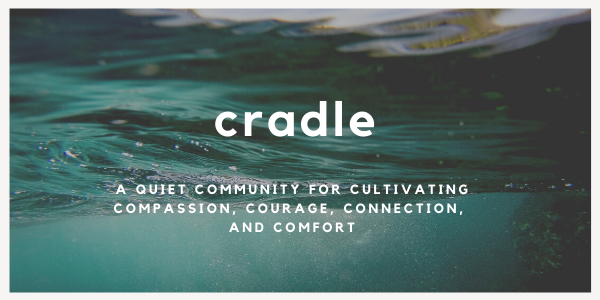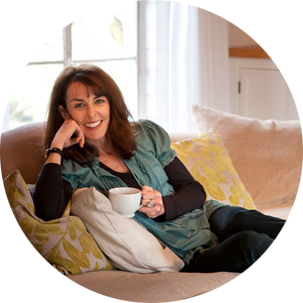 Cradle.
What does this word evoke in you?
To me, it feels predictable, rhythmic, simple and comforting.
According to selected definitions in Wordhippo, "cradle" has multiple and interesting definitions:
Noun
A container designed to hold or protect something;
Small bed for baby;
A place or process in which something originates or flourishes;
Verb
Hold gently and protectively;
To move (a baby or young child) up and down in a playful or affectionate way.
In times of fear and uncertainty (which is pretty much always, but especially now), we are susceptible to crippling anxiety and overwhelm. Our nervous systems, designed to track threats, can be our undoing, which is nothing we want to blame ourselves for.
Our bodies and intuitions give us essential information about how to navigate our world, so we want to learn ways of tuning in and discerning those signals. When we are in fear, it's difficult to tap into our bodies' wisdom.
Our body's healing resources can be squandered and we become less resilient on all fronts if we are continually in a hyper-vigilant state (thank you, amygdala). If you are a person with a history of trauma,  living with marginalized identities, chronic illness and/or you are a highly sensitive person, your ability to manage your stress can be so much more difficult. I see you.
Dominant culture suggests we should all be able to simply buck up and pull ourselves up by our bootstraps. But this untruth isolates and shames each one of us.
If these times are teaching us anything, it's that we are connected and reliant on one another. We also can see in crystal clarity that as a collective, we are only as strong as the most vulnerable among us.
By coming into a community where we band together as imperfect humans, we can hold hands, tap into each others' strengths, raise our consciousness about the realities around us and help stabilize our nervous systems. Together, we can become more resilient.
If you would like a container of sorts to cradle you as you move through this time (and I'm specifically talking about the Coronavirus pandemic), please join me for a month and let's see what happens when we cultivate community, connection and calm.
CRADLE is a 30-day program (and potentially one that will be ongoing, but let's see how this goes).
Over the next 30 days in CRADLE, we'll be exploring a wide variety of amygdala-calming, spirit expanding practices, which I'll call "cradles."
These cradles will be teeny-tiny openings into a place of more expansion.
Some of these practices will be nourishment related, some thought related, and some energy and intuition related.  There will be some unlearning to do. Each cradle is designed to support you in managing the unpredictable circumstances and fear laden energies we are moving through. CRADLE will also give you skills to help support your family members, friends or students.
CRADLE is a weight-neutral program. It's not at all designed to fix or improve you, but to support you in this moment in time.
My hope is that CRADLE can give you some breathing room to tap into your unique and potent strengths.  You and your gifts are essential and irreplaceable.
CRADLE is not a class. It's a quiet, low time-investment experience designed to help you open up to possibilities of more ease.
As social creatures (and sensitive ones at that), we need the support, encouragement and validation of community. By participating in CRADLE, you'll feel gently supported as you discover small hinges that move the doors of ease, connection and empowerment.
I would be honored to have you join me.
Dates:
April 7 - May 6, 2020
(full moon - new moon)
Virtual Meetings:
Tuesday, April 14, 5:00 PST
Tuesday, April 21, 5:00 PST
Tuesday, April 28, 5:00 PST
Tuesday, May 5, 5:00 PST
These meetings will be recorded if you can't make live.
Pay what you can pricing:
Suggested prices are as follows:
Reduced rate: $45
Regular rate: $90
Community Cradle rate: $120
Please pay more if you can; it will help me make this offering more accessible. If the reduced rate presents difficulty, please reach out.
50% of your registration fee will be donated to
two non-profits working to
support vulnerable community members.
Click on the logos below to read about the work of these organizations.
Trinity Center is a non-residential program serving homeless and working poor adult men and women in Walnut Creek and Central Contra Costa County.  During the Coronavirus pandemic, their services are needed more than ever. Trinity Center is a Contra Costa County Coordinated Assessment Referral and Engagement (CARE) Facility and therefore considered an essential Government service. Trinity Center is currently open and focusing their efforts on their Day Shelter Basic Needs Program as well as their Overnight Evening Program.
A taste of what you'll experience...
Bite sized daily emails that
encourage, educate, empower & inspire
The goal: to support you in cultivating a climate of stability in your body.
Four Group Zoom Meetings with Laura
We'll connect, share, and deepen our understanding of the practices covered in the email messages. We'll support one another and raise our collective consciousness.
Cradle Conversations
These short pre-recorded conversations will be embedded in the program. The conversations will feature people who I have found to be "way-showers," people who are wise, grounded and are out ahead identifying a path forward.
Mr. Rogers called them "the helpers."
These conversations are designed to cultivate community and inspiration, and provide simple practices for grounding that you might easily incorporate into your days. Click here for more info.
Guided Meditations
Access to simple meditation practices to support you in cultivating calm, focus and clarity.
An easy online learning platform
All materials will be housed on a program called Ruzuku. You only have to register once (I'll give you instructions) and you'll find everything stored in one clearly organized place. No need to track a bunch of emails. Yay.
The daily emails have a cumulative effect on my attitude and energy, in a way that I feel more empowered and confident. I read the messages when I'm starting my day and they're just the right length to actually "absorb."  I'm finding myself taking action. It's the subtle shifts in thinking and behavior that are working for me.    - Jill
The answers to your questions:
Q: Is this a class? How much time will this take me?
A: It's not a class, but you'll learn a lot. First and foremost, it's designed to bring strength, inspiration and ease, not added stress. You will receive an email five days a week that you'll want to read first thing. It will help you begin your day from a mindful and grounded state, even when chaos swirls around you. I'll be sharing a mix of strategies to support each participant in cultivating a climate of stability in their body and spirit.
Q: Will there be a Facebook group?
A: Nope. Social media, while a brilliant source of connection,  can also create a climate that exacerbates stress and disquiet. We want to keep this experience QUIET. You'll have a chance to get to know your fellow Cradlers via the group calls. For those of you who are introverts, you don't need to be seen via video.
Q: What are the group Zoom meetings about? And what if I miss?
A: The calls are a place to deepen our connection to one another and deepen our understanding of the Cradles. I'll have a topic prepared, but I'll allow your questions and other Cradlers to lead the way.  The calls will be recorded. You can submit questions ahead of time and I'll answer them even if you can't make it live. This is especially useful if you're not living in my time zone. Ideally, if you're available, join us live. It's a much richer experience. We need each other! Faces and warm smiles are so healing in a time of social distancing.
Q: What exactly are the Cradle Conversations that are included?
A: A part of the program that will add magic and wisdom to our days. So excited about this piece. Click on the image below to read more.
With this program, Laura has mined all of the gold nuggets from her teaching and sends them one by one to me each morning. I love starting off my day with something easy and actionable I can do that day to bring some ease into my mind and life. The messages are kind, supportive and empowering. - Nicole
As an integrative medicine doctor and psychotherapist it is very important for me to work in collaboration with other professionals who understand the mind and body connection. Laura Halpin's work with clients encompasses all that is healthy for the mind, body and soul. She is an expert on how to nourish the body. She addresses the importance of how we think and how to live with gratitude. What I truly love about her groups are the support network that develops. Support is one of the key elements for wellness. Laura teaches with grace, a smile, compassion and great flavors!

- Katerina Rozakis, PhD, LCSW, DAPA, BCIM