Thrilled to have 
Oni Marchbanks & Anakha Coman
join us as our guests!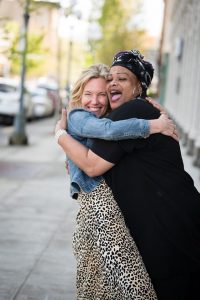 For our next Collective Health Conversation, we'll be talking about "leveraging privilege" to create racial equity. You've probably heard the phrase, but perhaps could use some sense of what that looks like day-to-day.
This conversation will be grounded in Oni and Anakha's co-creation of a practice and movement called Equity Asks™.
Equity Asks™ invites people with privilege, power and resources to take action to create racial equity and support the visions, businesses and creative projects of black, brown, and indigenous people.
I'm so pleased to host this conversation. It'll fill in some missing pieces about the ways that you can show up to "do the work."
Ultimately, using the framework of Equity Asks™, you'll be able to align with your humanity, to show up and, as a collective, get free.
"I believe that we can live in a better world. I believe we can live in a world where all humans are treated as equals. I believe that, if each one would reach one, we could achieve the impossible."
- Oni Marchbanks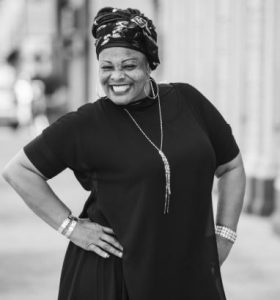 Oni Marchbanks
Transformational Leader | Racial Equity Educator | Certified Alcohol and Drug Counselor II
Oni (also known as Wilma Marchbanks) brings a torch of love to social justice initiatives, inviting people to step in and speak up, revealing what's previously been hidden and ignored. She embodies and teaches the power of transparent truth telling in courageous spaces and catalyzes profound connection that sustains transformation. Oni brings a deep understanding of systemic and institutional racism and oppression as well as her lived experience to every conversation. Her leadership presence moves groups and communities towards a realized equity that serves as an essential foundation for individual and organizational flourishing. Her work is informed by her studies in racial justice, her ancestors and her mentors Audre Lorde, Martin Luther King Jr., Angela Davis, and Rev. angel Kyodo williams.
Oni currently works as a Business Employment Specialist for the State of Oregon. She is a certified Alcohol & Drug Counselor II and anti-racism educator. Oni leads two community efforts with a focus on liberatory justice — Race and White Women at Work (RAWWW) and Sisters in Solidarity. She works with marginalized people and communities in transition. She has helped to secure housing, employment, addiction, and recovery services for over a decade in her continued journey of service.  Oni is a member of the Equity and Inclusion Council for the Oregon Employment Department and is a member of the Human Rights Commission for the City of Salem.
She is a mother to 7 and grandmother to 12. She is poet and enjoys spoken word poetry. She is an inspirational speaker and visionary. She loves dancing, fashion, and hosting celebrations.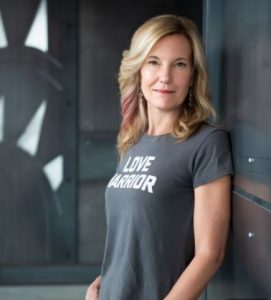 Anakha Coman
Transformational Leadership Development and Embodiment in DEIA
Anakha speaks, teaches and consults with leaders and organizations worldwide. Companies she's worked with include Intel, Nike, Microsoft, Eli Lilly, The Bill and Melinda Gates Foundation, Zappos, SalesForce.com, the Mindfulness as Medicine Initiative, Save the Children and Parker Hannifin. She designed and co-authored the foundational curriculum for Intel's corporate mindfulness program and co-founded and launched Awake@Intel, a successful initiative to realize the potential of employee and corporate intelligence. She created and facilitates Awake at Work, a mindfulness based program with a focus on increasing employee engagement, intentional inclusion, creativity, resilience and collaboration.
With an emphasis on mindful leadership, intentional culture, equity and inclusion, and creativity, Anakha's expertise is in organizational and leadership development. She holds a Masters in Organizational and Leadership Development, a Masters in Consciousness/Divinity, and a professional certificate in Spirituality, Health and Medicine. Anakha is a certified Unpack Biases Now facilitator, a certified embodiment practitioner, a certified Expressive Arts therapist and an ordained interfaith minister.
Anakha brings her wisdom, depth and understanding of cultural and systemic behavioral change to conversations about race, gender and class. She is known for issuing a clarion call to organizations and communities – requesting brave and swift collective responses that move us from operating from a fear based consciousness that upholds systems of oppression to a love based consciousness that gives rise to systems of liberation where we flourish together. Her unflinching personal and professional look at inequities and biases as well as her understanding of the seemingly small actions that catalyze profound and sustainable change inspire and motivate people.
Steps to participation:
Most important: Register for our Collective Health Conversation.
Make sure you're signed up to receive emails from me (sign up below) so you're in the loop for future conversations and offerings.