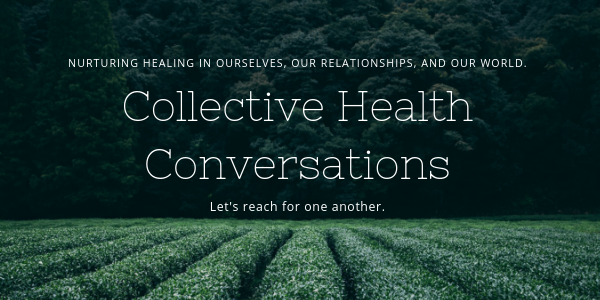 You are invited to participate in the Collective Health Conversations.
WHAT ARE COLLECTIVE HEALTH CONVERSATIONS?
The Collective Health Conversations is a series in which we explore the connection between collective or societal health  and individual wellness.
We heal as individuals and as a society when we are in relationship. Through these conversations, I hope we can deepen and broaden our ties to one another and to the brilliance of our own bodies.
We can focus on self-care until we're blue in the face, but individual wellness does not exist in a vacuum. If our conversations about wellness don't address systemic oppression - including racism, ableism, capitalism, weight stigma, healing will be elusive.
We are amidst a powerful culture shift. How can we participate? What do each of us have to offer? And how can we heal ourselves as we work toward creating the world we want to live in?
Let's connect with each other over topics that matter. Let's nurture our own healing as well as healing in the context of others' healing and the healing of the planet
If you love to expand your consciousness and are interested in both connection and community, then you just have to participate.
It's free. It's virtual.
Sometimes the conversations will be rooted in a particular book or article, sometimes we'll just show up for conversation.
Please show up as you are.
We'd love to have you join us.
WHAT WE'RE LEARNING ABOUT NOW:
Thrilled to have 
Karin Berardo & Shawn Moreton
join us as our guests!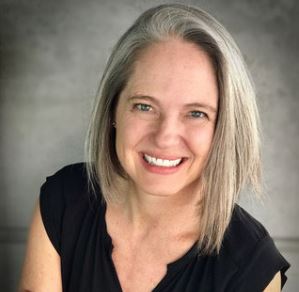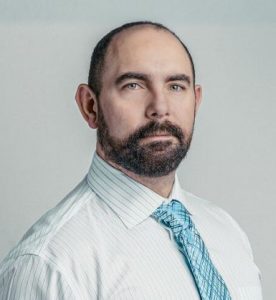 For our next Collective Health Conversation, we'll be talking about capitalism.
We will be talking about how your relationship with capital affects our individual well-being and how it affects the well-being of our communities.
We're defining "well-being" broadly: how does capitalism affect our physical, emotional, spiritual, health? How does it affect the well-being of our environment? Of the collective?
In a time of a global pandemic and racial uprisings, what questions should we be asking of our economic system?
With a depth and breadth of experience, Karin Berardo and Shawn Moreton will guide us through a look at the macro and the micro, helping us understand our individual role in cultivating resilience and justice in our communities and the collective.
"What would our economic system look like if we valued well-being and care?
What would our collective well-being and health look like if our economic system prioritized people?"
- Shawn Moreton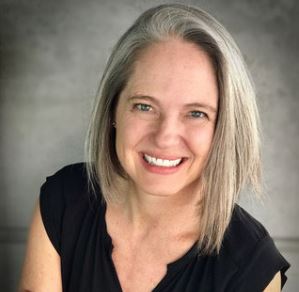 Karin Berardo
FOUNDER, ABREN
From working with small farmers in the Brazilian Amazon to adopt sustainable farming, to creating renewable energy solutions in emerging markets, to managing institutional investment funds for multifamily housing, Karin Berardo has been cultivating impact her entire career. She's dedicated over 25 years to developing blended finance solutions, using private, public and philanthropic funds to finance affordable and workforce housing in the US and South Africa, and renewable energy and sustainable infrastructure in the Americas, South-East Asia, the Middle East and Africa.
Over her career, Karin has often been the only woman in the room, whether that room was in the US, Mexico, Brazil, Thailand, Saudi Arabia, or as the 1st female CEO for a renewable finance company in the Abu Dhabi Global Markets. Karin blends data driven analysis with heart-centered leadership, ensuring that all valid perspectives are considered, and that decisions are based on strong financial foundations and also grounded in high ethical standards.
Abren is a woman-led business that operates as a collaborative of professionals with deep expertise across a range of specialties in sustainable infrastructure. Abren is a consortium of women and men dedicated to achieving deep impact aligned with conscious and regenerative capitalism.  They are stewards for their capital, communities and our environment, and bring this spirit of stewardship to Abren's services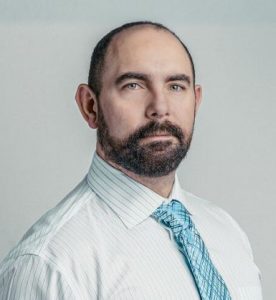 Shawn Moreton
FOUNDER - LEADING WITH EQUITY
Shawn is an entrepreneur that has built his career on broad and deep expertise across industries and regions with a focus on developing people, efficiency, and success. He is a leadership coach, a diversity, equity and inclusion expert focusing on organizational, systemic and relationship dynamics and how they contribute to successes and failures. He is a CFA charterholder, and has lead global teams across several finance verticals from Investment Banking, Capital/Portfolio Management, Quantitative/Algorithmic modeling, Venture Capital and is very active in philanthropy.
He is the founder of Leading with Equity, where he has developed multiple innovative programs focusing on developing critical leadership skills/acumen through a social justice lens, building high performance teams, shaping and building legacy and community impact, and bringing disparate social groups together to work through and learn through real issues that face us all, breaking down societal and group barriers.
He has done philanthropic work for orgs ranging from the arts, to political and social movements including board work at the C-Level, serving as a board director, and also working to build funding/coalitions to raise organizations and causes up, sometimes working with them through financial crisis to sustainability.
Shawn also is skilled as a pianist and educator, having played Rachmaninov 2nd Piano Concerto with Orchestra in New York City after getting his degree from a prominent Paris Conservatory while living and working in Paris.
Steps to participation:
Most important: Register for our Collective Health Conversation.
Make sure you're signed up to receive emails from me (sign up below) so you're in the loop for future conversations and offerings.