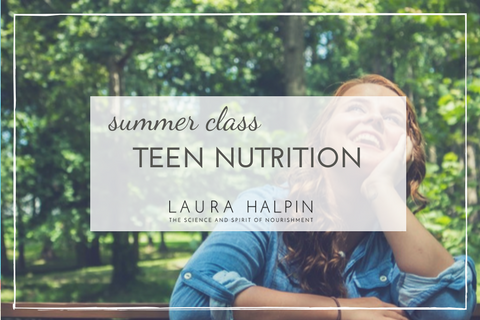 Teenagers are at a pivotal time in their lives. They're forming their own self-care habits, which may or may not be based on reliable health information. They're inundated by media messages, peppering them with random nutritional factoids. They're pressured by media images to be perfect, whatever the heck that means.
This workshop is designed to give high schoolers and college students a strong nutritional and self-care foundation that has nothing to do with calories. We'll focus on what foods are nourishing and what foods erode our moods, our abilities to think and affect whether or not we're glowing on the outside.
We'll explore how to balance out our moods, energy and brains through the foods we eat. We'll also explore how skin health, in huge part, is determined by our diet. Some additional topics covered: anxiety, stomach aches, label reading, and the ins and outs of food sensitivities. For the college group, we will cover how to navigate dorm food, eating out and how to stock a dorm/apartment fridge. We'll spend a lot of time in the kitchen trying new foods.
High School student session – three sessions, six hours total

Mon, July 24; Wed, July 26, Fri, July 28 from 11:00 am – 1:00 pm - REGISTRATION CLOSED

College student session – three sessions, six hours total

Mon, July 31; Wed, Aug 2, Fri, Aug 4 from 3:00 pm – 5:00 pm

Classes held in Walnut Creek
$200 per student (discount for two siblings or more)
Option to add-in an individual health analysis
Spaces in the workshop are limited. Reserve your place today. It's more fun to come with a friend, so consider signing up with one.