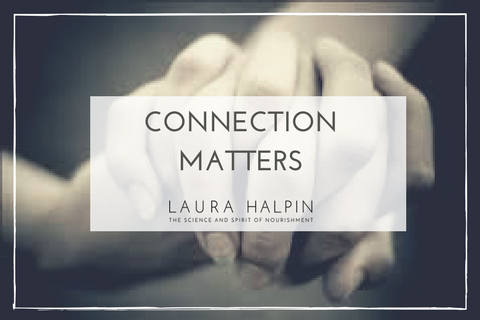 This summer, when my family was vacationing with some other family friends, we all took an online "strength finder" quiz. With each question, we were asked to choose one scenario or preference over another. The result of the process was that each of us had a computer-generated list of 5 top strengths. Here are links to two different strength-finding quizzes if you are interested.  It's always a lovely thing to focus on your strengths rather than to be consumed by what is not quite wonderful about you! Gallup Strengthfinders and Penn's Authentic Happiness Brief Strengths Test (need to create account for both tests)
According to the results, my top strength is "connectedness" which means I am a person who believes there are few coincidences in life and that for the most part, things happen for a reason. I found the result interesting (and not totally surprising) because "connection" is a concept that drives the way I live and practice nutrition coaching.
Are we over-connected?
I believe that we're living at a time where we're at a crossroads. This crossroads demands that we must navigate between our ability to be hyper-connected and our need for the kind of connections that heal. Yes, I can have 24-hour access to breaking news, can text/email/FB message/tweet any time of day, and see vacation pictures from people I haven't had a real conversation with in years. Do these type of connections enhance or erode the quality of my life?
What drives my interest as a nutritionist is my core belief that we need quality connections. Health and healing come from being connected to our bodies, our feelings, desires, creativity, other people, animals, our food and the earth. When we lack quality connection, we suffer individually and collectively.
Are we connected to our own health?
Over many years, we've become disconnected through over-exposure to experts, health fads, diets, food products, and marketing promises. I see part of my job is to help reconnect my clients to their own power in creating and maintaining vibrant health. Just last week, I met with a client who participated in my recent Revitalizing Cleanse. Before beginning the cleanse, her blood pressure had been creeping up to the point that her doctor recommended medication. High blood pressure runs in her family. After a couple weeks of eliminating sugar and alcohol and focusing on eating whole, healing foods, her blood pressure fell back to well within the normal range.
Her initial reaction was interesting: she was pissed off. I totally got it.
Both the good news and the bad news is that her blood pressure was within the locus of her control. It would be so much easier to write off her health issues to bad genes and ignore her own responsibility in the matter. Yet here was proof that her diet and willingness to manage the stressors in her own life made an immediate and fundamental difference. This new responsibility, on one level, is frustrating and daunting. Some would prefer to hand over their health to a bottle of medication. In this case, my inspiring client embraced her power. It's amazing the shifts that have happened in her life (and her family's) as she's become connected to the power of real food. This woman is fired up and it's contagious.
How do we connect with own bodies?
Many of us subconsciously believe that in order to succeed or excel, we have to take a punitive stance with ourselves. We come up with a big list of dos and don'ts, and divide things up into black/white or good/bad. We give a big stage to the scolding voice in our heads. I don't know about you, but this critical voice never rallies me to a lasting positive outcome.
What I find in my work is that the way we eat and take care of ourselves is inextricably linked to our beliefs about ourselves and what we deserve. So, yes, health is about the food we eat, but no amount of broccoli and good fats is going to make us healthy if we're punishing ourselves with the way we eat.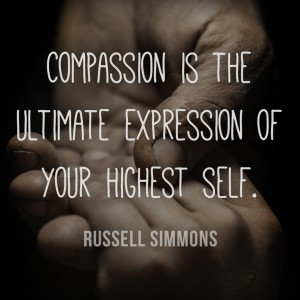 Last week, I was watching Oprah interview Elizabeth Gilbert, author of Eat, Pray, Love on SuperSoul Sunday. Gilbert was talking about how that voice, the Finger Wagger (my term), NEVER connects us to our bodies and our higher self. It's compassion and love that do. Check out Elizabeth Gilbert and Oprah's conversation here.
In my own life (and with my clients), an attitude of curiosity about my body helps me circumvent the power of the Finger Wagger.  So, if you have a sugar habit, rather than getting mad at yourself for eating it, you might start to become curious about what's happening in your body when you have cravings. How quickly does a craving dissipate? What does it feel like? Are there any other feelings underneath a craving? For me, this kind of curiosity creates space for compassion and a much lighter touch. There's room for me to grow. I become more connected to my body, rather than disconnected.
Connect to your body during times of stress and change
When we are going through times of stress, we can become depleted in serotonin, a neurotransmitter which wards off depression, makes us feel optimistic and confident, and helps us sleep. We also burn through our magnesium stores. Magnesium is important (in part) because of its calming, relaxing effect. High levels of cortisol, our main stress hormone, can cause sugar cravings. Sugar depletes serotonin, which increases stress. Sugar also depletes the body of its magnesium. It's a tangled web of cause and effect.
Thus, during times of stress, we want to be extra diligent about self-care. Making sure we reduce the stressors we can (watch sugar and processed foods, getting to sleep earlier, avoiding toxic people for example), and re-frame our experience with gratitude, gentle movement, self-tenderness, an "I got this" attitude or even a short breathing exercise can be very powerful. When we feel stuck in the trees, we want to do anything we can to keep track of the forest, the broader picture of our experiences. Coming back to your connection to your body and its needs can reduce the effects of stressors on your well-being and help you connect to the big picture.
Over the next 10 days on the Growing Health Facebook page, I'll be sharing 10 different ways to stay connected to your body in times of stress. Hope to see you there.
Happy to be connected with you,
Laura