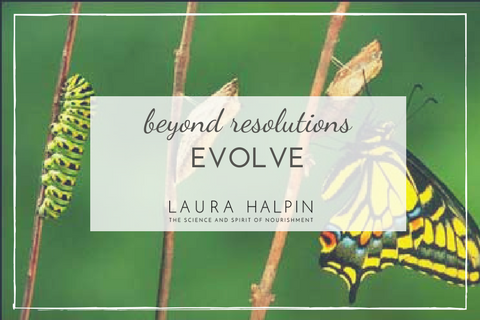 Beyond Resolutions: Evolve in 2014
What you do for yourself – any gesture of kindness, any gesture of gentleness, any gesture of honesty and clear seeing toward yourself – will affect how you experience your world. In fact, it will transform how you experience the world. What you do for yourself, you're doing for others, and what you do for others, you're doing for yourself.
Pema Chodron
Happy New Year to you all!
I hope this letter finds you warmed by your passing holidays. Hopefully you found the time to take care of yourself so that this season was satisfying and healthy.
2014 is just a couple of days away and many of us are feeling the lure of a new beginning. I adore January for its clean slate. I love creating a vision and setting goals for the year ahead. Totally. Yet we need to be careful with resolutions. New Year's resolutions can be too sweeping or unattainable. They can be a disguise for self-severity or jonesing after qualities or circumstances we don't have. Resolutions can put us into a state of striving or wanting, which takes us out of the present moment and lands us smack in a future that we're trying to force.
The driving question in my nutrition practice is "What is the obstacle to change?" In order to bring about positive evolution in our lives, especially when we've unsuccessfully tried to change in the past, it's essential to take a look at where we get hung up. For example, perhaps your goal is to stop smoking in 2014. Beautiful. But if you've tried in the past, where did you get derailed? It's from the point of derailment we need to work. Once we examine this point, we understand what our true starting line is. Maybe the starting line (before giving up cigarettes) is addressing stress, or creating time for self-care. Maybe it's filling in nutritional gaps, or balancing hormones. Then a no-cig lifestyle becomes sustainable.
It's the same with weight loss, or eating healthier, or exercising more. We have to start by working with the raw material we have (our present lives, our personalities, our strengths and even our fears).
The Year Ahead
My over-arching goal is to encourage and support sustainable changes in my tribe's diet and lifestyle. Yes, a January cleanse sounds so magnificent, doesn't it? Loving up your liver in January IS a really great thing to do and I highly encourage it. Yet, if you do not have the foundation to sustain good eating habits going forward (or if your cleanse is built around shakes and you haven't addressed what you and your family normally eat), the cleanse turns into a diet, and sooner or later, you end up back at square one (or two or three hopefully).
The programs that I'll be offering this year will address how to bring about lasting health-supportive changes to how you eat, move, supplement, think and sleep. I don't want to see my beautiful clients rollercoastering along, but building habits they eventually barely need to think about. I recently read an article entitled "Evolutions Not Resolutions." Just the title itself helped me crystallize my thoughts around how I want to approach 2014. How can we evolve so that what we resolve is possible?
Let's decide to evolve rather than resolve this year.  Let's find the obstacles to change and bring ease and clarity to those points. Small hinges swing big doors. What are those small hinges in your life?
Coming Right Up in January
This January, rather than offering a 28-day cleanse, we're starting with some foundational work. In January and February, I'll be working with a group of lovely women (and hopefully you too!) to bring balance and ease through nutrition and lifestyle.  It's perfectly appropriate for any woman from mid-30s and up. We'll apply the latest science to achieve sustainable improvements in sleep, sugar cravings, energy, weight loss, liver and gut health, thyroid and adrenal health (and more!). We'll be cooking up a storm. We'll also be focusing on building habits that stem from "gestures of kindness" (as my guru Pema Chodron says). It's the perfect place to start the new year for those who have resolution and diet fatigue.
There's room for you. Click here for more information.
After that, I'll be offering more workshops that will help you identify small but mighty hinges to create and sustain vibrant health for you AND your family.   As always, I'm open to your suggestions!
So excited for the year ahead. May it be expansive.
All my best ,
Laura Halpin
P.S. Check out this wonderful article I ran across this morning entitled "A Revolution in Resolutions." Loved it! A great way to set your intentions for the year ahead.